Finally! The definitive tool to study Spanish with your favorite movies and series is available, we will tell you why it is special: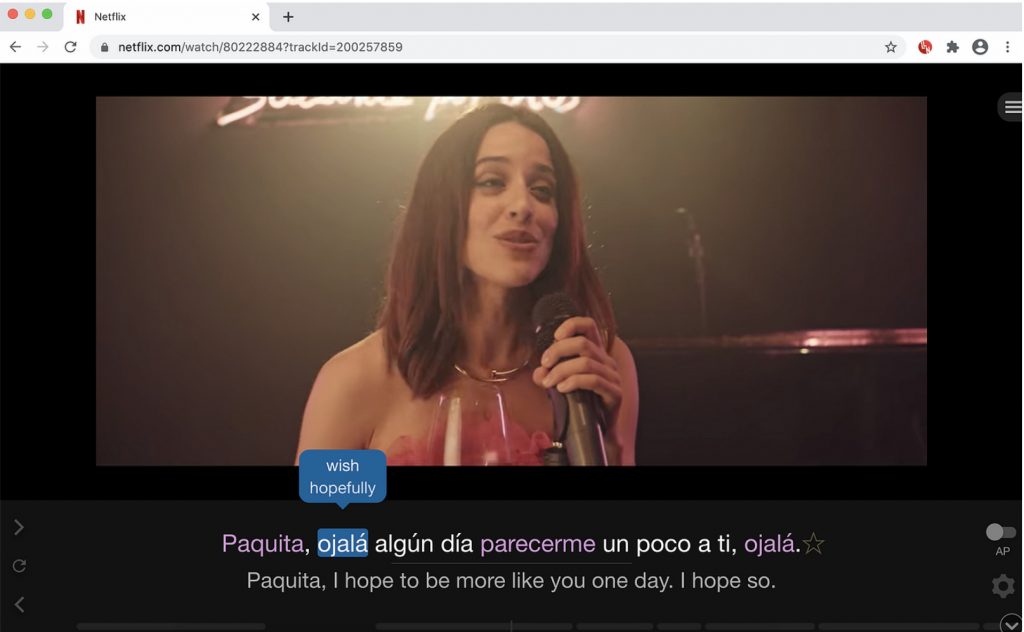 1) You can see two subtitles, on the top, the one in the language you are studying and below the one in your mother tongue. This method allows you to compare the structural differences and meanings.
2) If you want to translate a word, you can click on the vocabulary and it will show you its translation, pronunciation and other examples of phrases in which that word appears. It is connected to the google translator, but it also offers you links to other external dictionaries. The best thing is that you can customize this option by adding your favorite online dictionaries.
3) These two incredible features are free, but if you decide to go premium, you can save words and subtitle segments in your session, as well as change human translations (default option) for automatic translations. We know that sometimes the structure of the subtitles in the two languages ​​do not coincide, these are adaptations made by the translator of our mother tongue to sound more natural or to adapt the dialogue to its audience with more appropriate cultural references. For example:
Original version in Spanish: Matamos dos pájaros de un tiro.
Automatic translation into English: We kill two birds with one shot. Human English translation: We kill two birds with one stone.
You can analyze these translation changes with this tool while watching a series and with the premium account you could activate the automatic translation to check the literal translation, without human changes.
What do you need?
1) Have a Netflix account.
2) A computer.
4) Use the Google Chrome browser.
5) Download from Google Chrome the extension https://languagelearningwithnetflix.com that is automatically installed in your browser, where an icon will appear in the upper right corner.
6) Enter your Netflix account and play a series or movie, the application will be activated instantly. Don't forget to check that the app is turned ON in the playbar.
The developers of this tool check the quality of the subtitles to help you in your learning. Here you can see which movies and series have the "go-ahead" to enjoy them with the activated LL (language learning) app on the Netflix in your area: https://languagelearningwithnetflix.com/catalogue.html#language=Spanish&country=
I recommend these series in Spanish, they are very funny and their copyright belongs to Netflix, which means that it is likely that you can see them in the catalog of your country.
So now you know your next plan: couch, blanket and Netflix in Spanish!